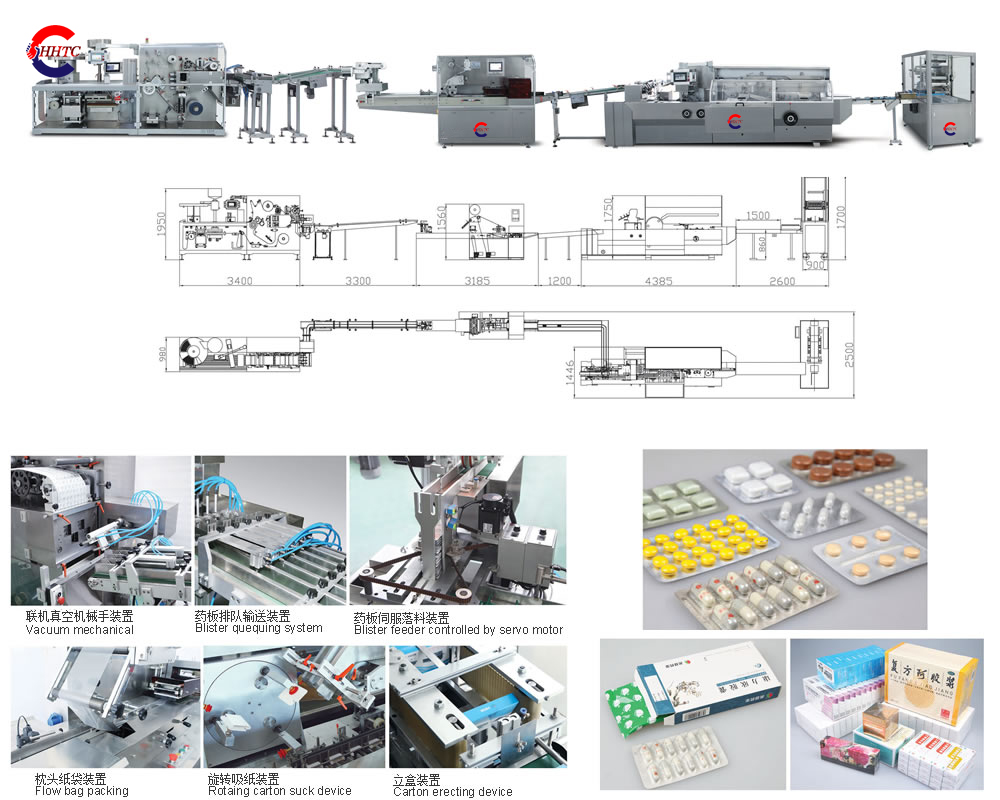 Highspeed Blister Packing Machine is suitable for automatic high speed alu pvc packing of capsules, tablets and chewing gums, candies. It adopts flat pressure forming to form strong and average blisters. and roller type mesh sealing to ensure reliable sealing. The machine is equipped with batching system, embossing device and horizontal boundless punching to achieve high production capacity and greatly save packing material

Technical characters:
Fast mould chang, push-oriented, without using tools.
Adopt servo traction, simple to set up, convenient to debug.
Push-oriented punch mould installation. If inspection and reject system is equipped and changed, no need to dismantle suck discs.
Long distance between two heating plates of forming when machine stops. to avoid PVC to be excessively heated and softened.
Optional configurations include camera inspection and rejection device, mechanical hand structure with suck heads, automatic vibrating guide rail feeder, etc. Can be equip with photocell register device as customer demand.
Main Technical Parameter
Model
270D
330D
380D
Punch Frequency
60-180times/min
60-180times/min
60-180times/min
Max. Forming area
240×260mm
240×320mm
240×370mm
Max. Forming depth
13mm
13mm
13mm
Traction stroke
Punch:20-120mm Forming:80-250mm
Blister specification
Standard:80×57、95×65、103×43(Customized allowed)
Packing material
Cold ALU forming aluminum foil
0.14-0.16×270mm
0.14-0.16×330mm
0.14-0.16×380mm
Standard PVC hard sheet
0.15-0.5×270mm
0.15-0.5×330mm
0.15-0.5×380mm
Standard PTP Aluminum foil
0.02-0.035×270mm
0.02-0.035×330mm
0.02-0.035×380mm
Average hole diameter of roll
70-76mm
70-76mm
70-76mm
Air consumption
≥0.3m3/h (Self-contained) pressure:0.6-0.8Mpa
Mould ooling
tap water or recycle water 60L/h
Total power
20KW
21KW
22KW
Main motor
2.2KW
3.0KW
3.0KW
Overall dimension (L×W×H)
4100×980×1750mm
4100×980×1750mm
4100×1030×1750mm
Weight
3000Kg
3300Kg
3500Kg